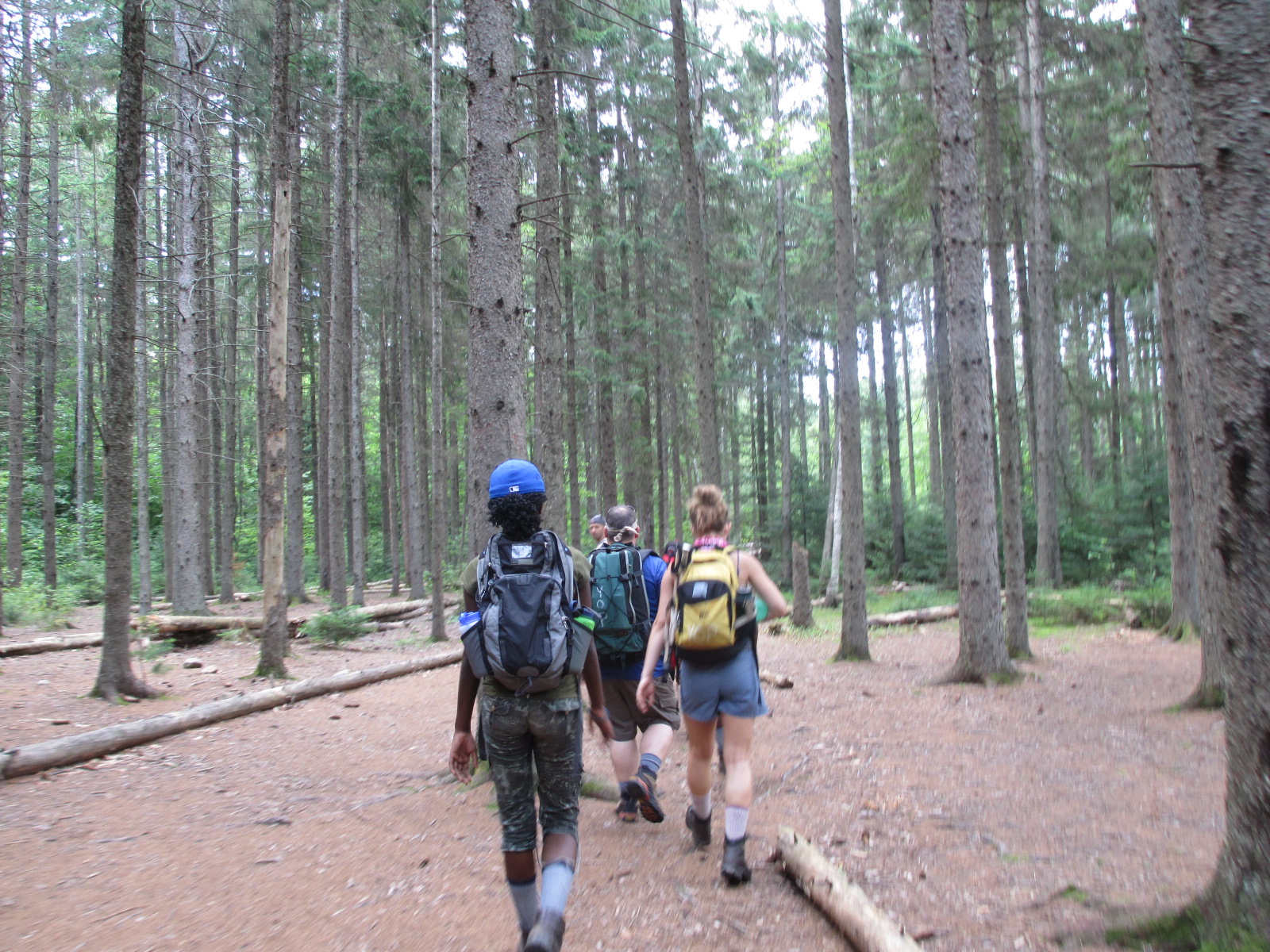 Eleven Principles for a Successful Outdoor Education Program:

The Banneker's Adventure Club is a success both in terms of its mission- to instill the importance of exercise and naturalism to our students- and in terms of getting our community members excited to be a part of our activities. Allow us a chance to share some of the principles we have founded our club on...
1. MANAGEABLE GROUP OF STUDENTS
I'm guessing that some people are confused why we don't offer Adventure Club activities to all of the grades in our school. There are many reasons for this, ranging from the limitations of an elementary schooler's body, to the amount of time and money one club (and set of chaperones) have to offer. The main idea here is that often times there isn't a lot of money to fund an Adventure Club... and being that transportation costs will eat up much of a budget, we find ourselves having to service a smaller group of older, more mature, kids. We try to serve as many kids as we can without biting off more than we can chew.
2. INVESTED CLASSROOM LIASONS
Each of the classrooms that we communicate with need to have certain information at certain times. If we can't rely on the classroom teacher to transfer this information, we won't have well attended trips. We try to assist classroom teachers by making informational appearances at convenient times, by sending reminders for deadlines, and by getting the classroom teachers involved in some of our trips. A happy and excited classroom teacher may well be your biggest ally toward hosting a successful and well attended trip.
3. ENGAGE YOUR COMMUNITY
People at our school talk about the Adventure Club as if it belongs to them, and that is exactly the way we like it. We want everyone to feel as if it is 'their" club... and in a sense, it is! We are an organization that thrives off of the skills, talents, and investment of its chaperones. It is this knowledge and excitement for each trip that we want to transfer to the kids.
4. KEEP YOUR LEADERS IN THE LOOP
We almost always run ideas, letters home to parents, and arrival/departure times by our Executive Director (and in some cases our Deputy Director). An informed leader can not only act as a great advocate inside and outside of the school community, but they also in control of how much time and resources will be at our club's discretion.
5. STAY OUT OF THE WAY
We do our trips on the weekend, on holidays, or in the summer. We also tend to not plan anything the first and last month of the school year (when it is unbelievably busy). If you can stay out of the way, other community members not only don't see your organization as a threat, but they will also have an opportunity to get involved.

6. MINIMIZE OUT OF CLASS TIME
We try to have all of our daytime meetings during times when they are convenient for the teachers. That seems to be the best formula when it comes to not interrupting our daytime learning routines.
7. PARTICIPANT BUY-IN
Without student and parent buy-in, chances are that a few students won't show up on the day of the trip. A small fee and/or a pre-trip meeting of some kind is very helpful in figuring out who is serious about going on the trip and who isn't.
8. RELIABLE PARTNERS
This is a fairly simple principle to understand, but even still, it definitely needs to be said. When we plan trips, and pass on trip information to the parents, we have to be sure that our partner organizations follow through with their responsibilities. We do our best to utilize the free and discounted prices that are available to schools. We also keep an eye out for organizations who focus on helping educational institutions provide these service to our kids.
9. INVOLVE PARENTS
On most of our trips, parents aren't able to ride with us. That said, we intentionally take smaller trips where we rely, heavily, on parent chaperones and parent drivers. We find that many parents really want to get involved in these extracurricular experiences. When we can, we do our best to involve parents and siblings. We also try to remember to keep parents informed, regardless of whether or not they will be joining us on a particular trip.
10. CONNECT WITH THE KIDS
Though we rely on our classroom teacher liasons to communicate information to the students and to pass out handouts, it is essential to make it into the classrooms (whenever it is convenient for the teachers) to explain the upcoming trip. We also make sure that we have sufficient pre-trip meetings to discuss the logistics and requirements of getting ready for whatever adventure we might take. This is our chance to form a relationship with a student or with a group of students. We do our best to get them excited about what they might learn and experience.
11. "THANK" YOUR VOLUNTEERS
Over half of our staff participate in at least one Adventure Club trip per year. Many of these staffers participate in multiple trips. They give up precious weekend time to be with and teach our students. We do our best to thank our chaperones verbally and with an end of the year banquet. Stipends have never been necessary to motivate our staff to go on the trips (though reimbursements don't hurt). Teachers have that intrinsic desire to "do right" by their students. It seems that being active and sharing the natural world with the kids ties into this nurturing spirit.