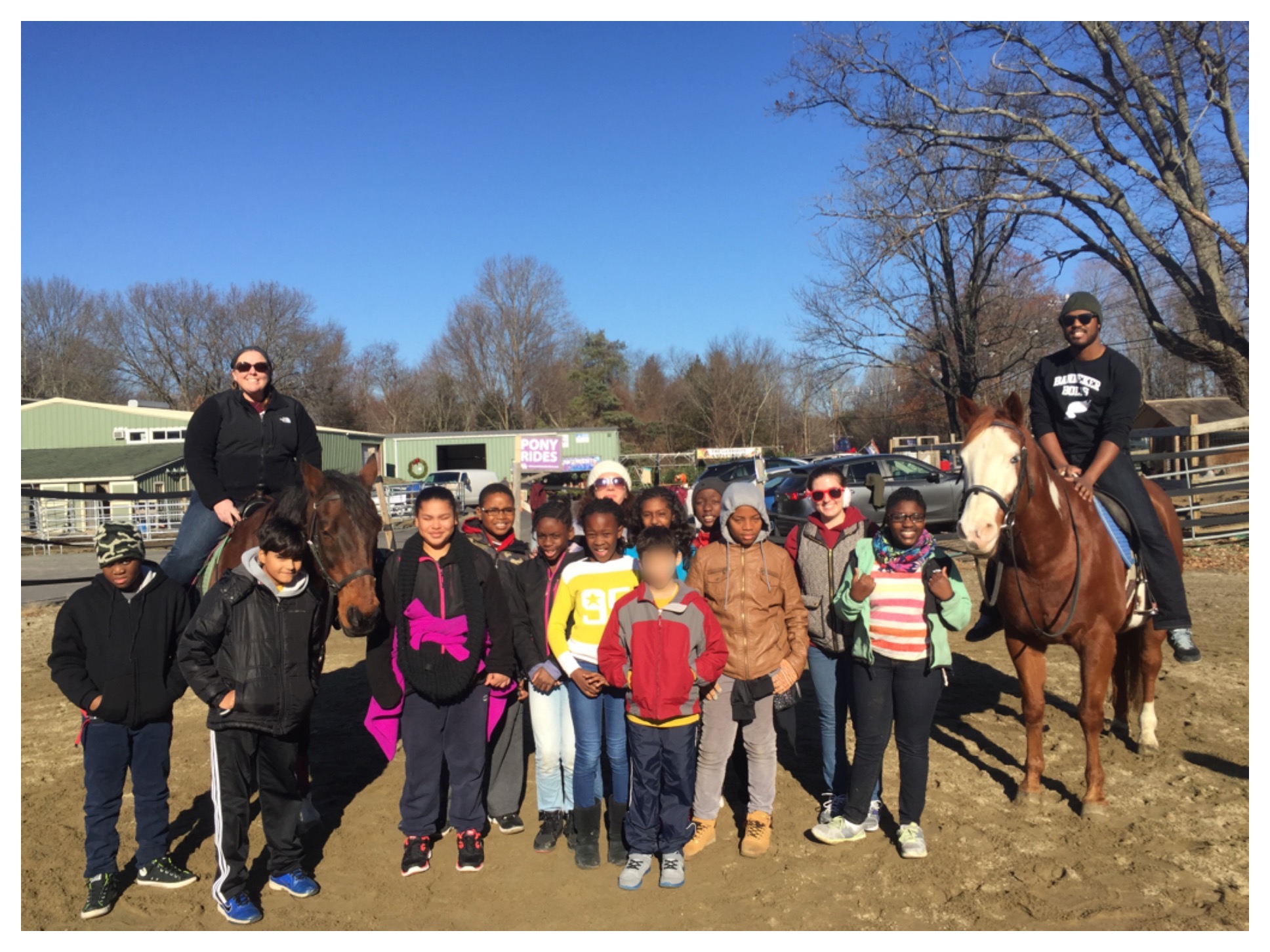 Adventure Club made our second annual trip to Sweet Meadow Farms last week for some horseback riding and animal exploration. Sweet Meadow Farms is a beautiful facility in Sherborn, MA with both outdoor and indoor rings for riding lessons. They also have a barn with a wide variety of animals - both farm animals and otherwise - that visitors can meet and feed. It's a great place to spend a cool, sunny morning! A group of 22 Banneker Adventurers arrived with their enthusiastic chaperones: Mr. Best, Ms. Cytto, Ms. Gordon, Mrs. Juengst, Ms. Marino, Mr. Smith, and Ms. Robbie and split into two groups of 11. Both groups had a chance to ride and to meet the animals.
Team A headed straight for the riding barn to meet Jude and Bubba, the two horses some of us met on this trip last year! Bubba and Jude are very tall, so the students used a step stool to give them a boost. The instructors showed them how to place one foot in the stirrup and swing their other leg over the horse and before they knew it, they were on a horse! Each student took two gentle laps around the ring, led by one of the instructors. For their first lap, the students got a little more comfortable with the new sensations of riding a horse - being very high up and rocking back and forth in the saddle. For their second lap, the instructors led each horse over a series of low beams so that the students could experience what it would be like as a beginner learning jumps. After the students each took their laps, some of the chaperones even got to ride! Mr. Smith and Ms. Robbie took to the saddle for some photographs with Team A and Ms. Marino had a chance to ride with Team B.
Team B was joined by Mr. P's family, and they began their morning meeting the many animals that live at Sweet Meadow Farm. Some of the animals live indoors, while others live partially indoors and partially outdoors. The first section of the barn introduced the students to some typical farm animals, like chickens, ducks, and rabbits. Things got interesting, however, when we met some more unique animals, like pheasants and the farms popular wallaby named Rua! We moved on to the next section of the barn, which included covered stalls that led to open yards. Here, our guides set out some clumps of hay so that we could feed the barn's horses, ponies, and cows. We practiced holding the hay like an ice cream cone so that the animals can clearly see which is hay to eat and which is a human hand to not eat! Soon we had another barn visitor, their pot-belly pig! The pig loved being scratched and brushed by the students, and she made some very disgruntled sounds when she had to go back to her stall! We also got to meet two of the farm's tiny Shetland ponies, Flash and Splash. The students helped clean the mud from their hooves and brush their lovely hair. Finally, we headed upstairs to meet the indoor-only animals. Here we got to see a tortoise whose best friend is a hare (no competitive racing allowed,) a mother rabbit and her days-old baby bunnies, a cockatiel, and a very squirmy ferret. Students had a chance to hold some of these animals, while some were just for watching and learning about.
After each group had spent about 40 minutes in their first activity, we traded places so that Team B could ride and Team A could meet the awesome barn animals. We gathered in the barn's indoor picnic area for a delicious lunch before heading back to the bus.
When we arrived at the bus, however, we discovered that the battery had died! Luckily, Mrs. Juengst had jumper cables in her car, and the barn had a spare battery charger with cables. Mr. Best helped Al, Sweet Meadow's wonderful maintenance man, and between the spare charger and Cooper (Mrs. Juengst's car), the bus was up and running in no time! As usual, the Adventure Club students were model citizens the entire time, and quietly kept themselves entertained while we waited. In the end, we were only about 15 minutes late meeting guardians back at the Banneker!
We're looking forward to seeing Bubba and Jude again next year!
P.S. Check out all Sweet Meadow has to offer at http://www.sweetmeadowfarm.com/